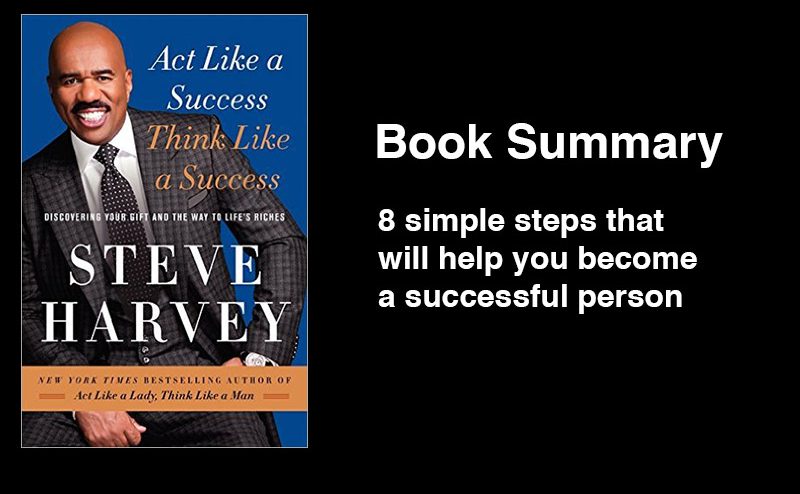 Act like success, think like success
Steve Harvey, is an American Comedian, television host, producer,radio personality, actor, and author. He hosts The Steve Harvey Morning Show, Steve Harvey (the talk show), Family Feud and Little Big Shots. He is the author of Act Like a Lady, Think Like a Man and Act Like a Success, Think Like a Success
Book: Act like success, think like success
This really inspiring book explains that everyone has a gift that god has given us and that this gift will help us to reach our success.
The language of success: So the first approach is to start the language of success and find out what are your favourite excuses that you use every time to convince yourself not to do something, next you need to figure out expectations to convince yourself that doing the task will bring you more success later on.
Find your gift: In order to find it, you need to think about a thing that you do at your absolute best and that takes the minimum amount of effort. Then, ask people what they think you can do best.
Putting your gift to the right vehicle: in order to reach success, you need to find out what is your end goal. What do you want to achieve at the end of your career? Then, ask yourself what do you want to do next? What is your next goal?
Reach your dreams: follow the SMART method to create good goals.

Make your goals Specific
Define your Measures
Aim for the Attainable
Get real and Relevant
Tailor your Time

Design your board: Design a printed board or a numeric board by adding all the relevant photos, images, videos  that will motivate and inspire you to achieve your dreams. As an example, you can add what you think is the most inspiring quotes. Add elements of your future life such as picture of your next house, your next job, or company.
Adding / Removing people to your wagon: it is important to choose the people around you. Get rid of the people that does not bring you any value or bring you down and instead welcome the models that bring you ideas, energy and believe you can achieve your dreams.
Evaluate your skills: knowing your strength and weaknesses will help you to improve yourself. The key is to show your strength and protect or improve your weaknesses and never stop learning.
Life's magical balance: HOME + HEALTH + FINANCES = SUCCESS. In order to get success, you need to create a schedule that is balanced and include this 3 elements. First, maintain a good relationship with your family, wife, children… by spending some time with them every week. Then, make sure your stay healthy by eating heathy, going to the gym… Finally, make sure you solve your financial issues and think to save money. If you do all the above you have the potential to be successful.
---